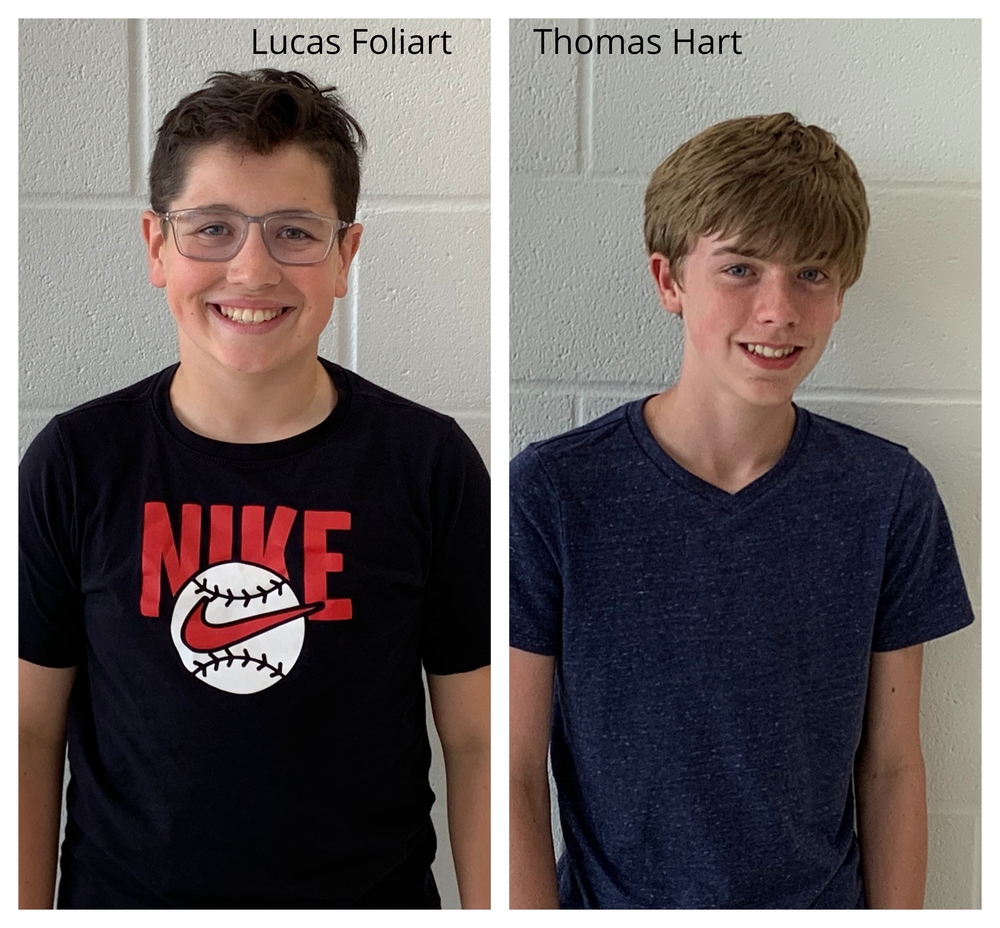 Hellstern Seventh Graders Excel on ACT
Springdale Schools - Amanda Thattanakham
Tuesday, May 14, 2019
Lucas Foliart and Thomas Hart were recruited from their seventh grade classrooms at Hellstern Middle School to participate in the Duke TIP program. Both took coaching well and surprised themselves and their families with the results.
Foliart discovered he made a 30 on the ACT exam. Delighted and surprised he anticipated besting his friend Hart. Instead, Hart learned he made 32. Both were honored at a luncheon in Little Rock and they expect to benefit from the Duke TIP program all the way into college.
"We met with the district academic coach, Mr. (Mike) Fotenopulos in our school library and he gave us different strategies to take the ACT," Foliart said. "My goal was to beat my dad (Josh Foliart). He made a 24 on the ACT when he was getting ready for college.
"When we received the letter that had ACT on the envelope and opened it, we saw the big 30 right away. I thought they gave me the wrong score. I couldn't believe it. My parents were surprised, too, but they were happy for me."
Foliart's score came in the mail a couple of days before Hart's. Hart's parents saw the score before he did.
"My parents had opened the letter and they showed me the score," Hart recalled. "I was elated. They explained the importance of the score and how much it would matter. Full scholarships to college come from scores like a 32. I was lucky to get it. I think 20 is a good score and I would have been happy with that taking it as a seventh grader."
Foliart added, "I thought I had beaten Thomas, then saw his score and thought, 'Oh, no.' But, 30 is a really good score. I'm very happy with it."
To put the scores in perspective, Har-Ber senior Sojas Wagle, who scored a perfect 36 as a sophomore, made 28 when he took the ACT through Duke TIP as a seventh grader. How did Hart and Foliart score so high?
"I really don't know," Hart said. "I read fast and am good at taking tests. Part of scoring high on the ACT is being able to finish. The longest part of the test is math. You really have to know things to score well in math."
Foliart noted, "Taking the classes and being tutored helped a lot. I went into the test trying to do my best and just relaxed."
Fotenopulos recruited Hart and Foliart and several other district students for the Duke TIP program because of their MAP scores.
"We recruited them and tried to give them tips but Lucas and Thomas made 30 and 32 because they are bright students," Fotenopulos said.
"The Duke TIP program is a good opportunity," Hart said. "It has been a good experience. I wouldn't call it fun because it is a test."